Awards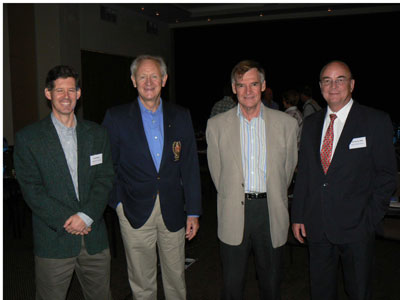 I am a nationally and internationally recognised expert in the field of antenna design, manufacture and measurement as well as antenna test range development. Over the years I have received numerous citations and awards "in recognition of exceptional development of antenna technology at the CSIR and in South Africa". All the citations referred to the practical use and application of these antennas.

In 1986 I received the merit award of the president of the CSIR for "leading edge technology developments in microwave measurement facilities and microwave antennas with significant economic impact and high export potential". The antennas were a 35 GHz monopulse tracking antenna with radome for radar applications and the development, industrialisation and technology transfer to industry of 2 to 18 and 2 to 40 GHz spiral antennas for airborne applications. Many thousands of these spiral antennas have been manufactured and exported in direct competition with international antenna suppliers.

The South African Institute of Electrical engineers (SAIEE) awarded me its silver medal and certificate for the best practical paper published in the Transactions of the SAIEE in 1985 for my paper entitled: Measured performance of a broadband matching section for peripherally fed helical antennas, Trans SAIEE, vol.76, no. 1, January 1985, pp. 33-38. Over the years I have participated actively in the SAIEE symposia and have on various occasions been awarded (with co-authors) prizes for best practical paper and best poster presentation.

I received a shield and award from Grinaker Electronics (Pty) Ltd (GRINEL) for: "the successful transfer of technology to enable GRINEL to manufacture the 2 to 18 GHz spirals for the South African Air Force".

At the SA IEEE AP/MTT Conference held in Stellenbosch on 26 and 27 March 2007, I received a lifetime achievement award for: "Contributions to the establishment and maintenance of a world-class antenna industry in South Africa and for sharing his expertise and insight with fellow workers in the field".  In addition, many of the products developed by me were recognised as establishing the credibility of the South African antenna industry in the highly competitive international market.
Click on the links below to view some of the awards I have received.
Silver Medal for Paper: Measured performance of a broadband matching section for peripherally fed helical antennas - December 1985 (See paper here)
Award for Paper: Some Design Considerations for Biconical Antennas - February 1992 (See paper here)
A Tribute to Dr Dirk Baker - March 2007
IEEE Life Senior Member Certificate - January 2012
SAIEEE 35th Anniversary Certificate - August 2012
AOC Lifetime Achievement Award and Certificate - November 2012